medac at the EAU 2021
MEDSCAPE LIVE symposium: "Expert insights: Best practices for managing intermediate-risk and high-risk NMIBC"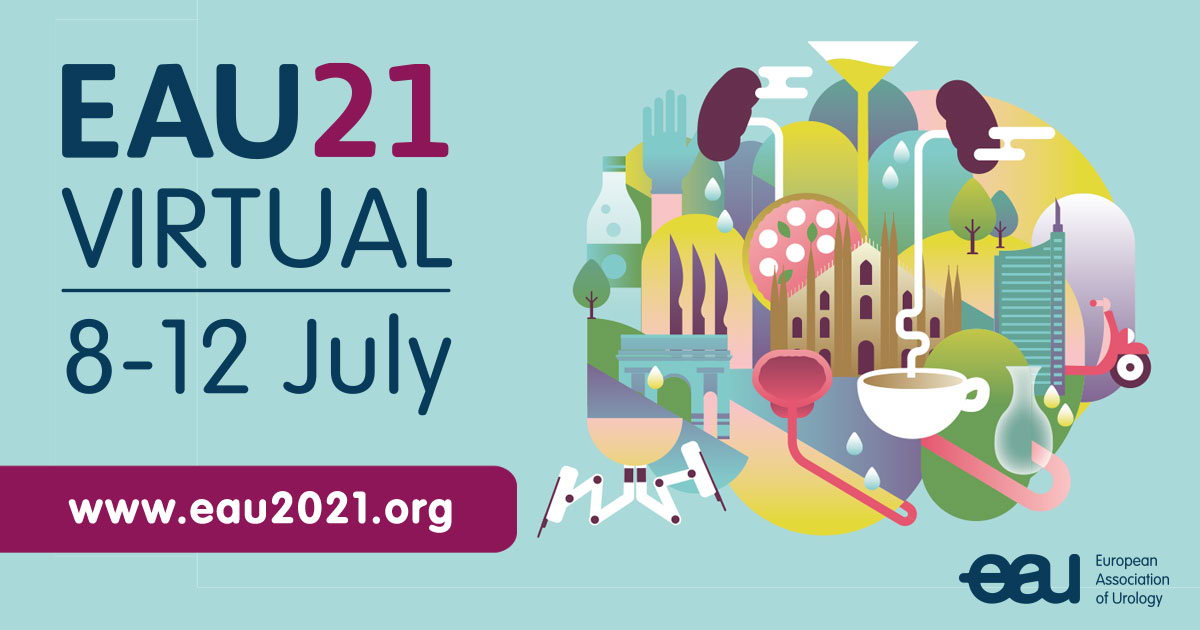 The risk categories for NMIBC (Non-muscle-invasive bladder cancer) in the EAU Guidelines 2021 have changed from the original 3 categories of low, intermediate and high grade to include a fourth, of very high1. The EAU symposium, hosted by Medscape and sponsored by medac, gave an overview of the best practices in managing the four different NMIBC stages2. The attending experts focused specifically on the risk stratification of NMIBC patients and shared the considerations that should be made when selecting treatment types for patients who have intermediate-risk and high-risk NMIBC.
Bladder cancer is one of the most common types of cancer in the world and one of the costliest cancers on a per-patient basis. This is due to the cost of operative procedures, follow-up cystoscopies and instillation therapy. Additionally, there is a risk of progression to invasive bladder cancer which can be fatal to patients. Efficient and immediate treatment for patients is therefore crucial. Current therapy options are adjuvant intravesical treatment or the surgical removal of tumours (TURBT). The symposium covered the topical of recent insights to show that there is a possibility that neoadjuvant intravesical chemotherapy may supersede surgical removal in selected groups – a treatment which could greatly change the future of disease management.
New EAU risk stratification and how to assign NMIBC patients to the correct group
Professor Ashish Kamat (Houston, US) chaired the symposium, and introduced the upgraded EAU NMIBC risk stratification 2021. This incorporated both the WHO 1973 and 2014 grading classifications, along with the EAU NMIBC Guidelines 2021 – which now define the four risk groups (low, intermediate, high and very high). Although Kamat stated the risk stratification may seem complex, the new EAU NMIBC Risk Calculator 20213 is a helpful tool that has been introduced to facilitate the assignment of NMIBC patients to the correct risk group.
Both Kamat and Paolo Gontero (Turin, IT) presented insightful cases which illustrated the variation of the disease in intermediate and high risk NMIBC and also highlighted the risk of recurrence being the main concern in the former, and risk progression in the latter risk group. Kamat and Gontero discussed the considerations in risk-adapted treatment selection options. For example, specific risk factors predicting the risk of recurrence or progression are used when stratifying patients with bladder cancer.
Gontero and Kamat further discussed current topics, including when to perform repeat TURBT, adequate BCG administration and new treatment options in second-line treatment of high-risk NMIBC after BCG failure.
Recurrent NMIBC – Can neoadjuvant intravesical treatment supersede surgical removal?
Hugh Mostafid, Consultant Urologist at Royal Surrey County Hospital provided an update on the new concept of neoadjuvant intravesical chemotherapy (also known as chemoablation) for recurrent NMIBC. Increased interest in neoadjuvant chemotherapy was stimulated by the recent publication of the NICSA study4 (awarded Best Scientific Paper published in European Urology in 2020). The study reported a 57% complete response rate in patients with recurrent NMIBC using a short-term intensive regimen of 3 instillations of 40mg mitomycin C per week for 2 weeks indicating potential for sparing invasive procedures (TURBT).
Mostafid emphasised the need to distinguish between neoadjuvant intravesical chemotherapy (NAIC) as additional therapy to TURBT (endpoint: long-term reduction in the recurrence rate) and initial chemoablation as a potential alternative to TURBT (endpoint: short-term complete response rate).
The high participation rate and insightful discussion highlighted the interest in NMIBC treatment. The need for optimised and individualised treatment is high, however the progress in treatment options deems promising for the future of bladder cancer.
The video recording of the EAU symposium will be uploaded and available to watch on medac's BC Care website (bc-care.co.uk/)

2medac MEDSCAPE LIVE Satellite Symposium: "Expert Insights: Best Practices for Managing Intermediate-Risk and High-Risk NMIBC" Saturday, July 10, 2021, 9:30 – 10:30 CET EAU 21.

3 EAU NMIBC Risk Calculator. URL: https://nmibc.net (15.07.2021)

4 Lindgren MS et al. Eur Urol 2020; 78(6): 856-862. PMID: 32736928.